Ghost kitchens have gone from a whisper to a scream in the restaurant industry.
Before the pandemic, only 15% of restaurants set up ghost kitchens. By May 2020, that number grew to 51%, and it's still climbing. 
As of August 2022, one of the leading ghost kitchen restaurants was the MrBeast Burger chain. It earned an annual revenue of USD $100 million.
The global ghost kitchen market is expected to reach $118.5 billion by 2027.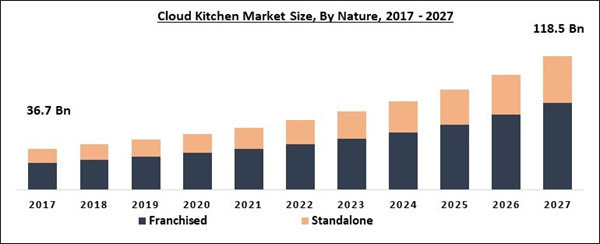 Do you like charts? I got one more for you. By 2030, ghost kitchens can expect to hold a 50 percent share of the worldwide takeaway market.
Creating a menu that stands out in a sea of options is not as easy as it may seem. I'm preaching to the choir here, but we all know menu design is part art form, part science. A ghost kitchen menu is no different.
The whole idea is to keep customers coming back for more. 
In this guide, we'll walk you through 6 steps to develop a successful ghost kitchen menu:
Branding comes first
Think about packaging and sustainability
Menu must be easy to prepare
Items must travel well
Share ingredients across various dishes
Offer fewer options
But first! A quick explainer for the uninitiated (otherwise skip to next section).
WTF is a ghost kitchen?
It's not what it sounds like. I can guarantee you it's not some spooky apparition lurking in your kitchen at night. 
A ghost kitchen is also called a virtual kitchen or cloud kitchen. It is a restaurant that operates 100% online without a traditional brick-and-mortar storefront. No tables and chairs, and no waitstaff needed.
Ghost kitchens range from commercial rented or shared kitchens, to home-based businesses.
This business model is popular due to low overhead costs and the rise of online ordering systems. It allows chefs and restaurant owners to experiment with new concepts and menus. You can reach a wider audience without the burden of rent, utilities, and staff.
While some ghost kitchens may seem elusive - that's part of the allure! They operate on a "if you know, you know *wink wink*" basis.
Ghost kitchens are often as successful and profitable as traditional restaurants. Nail down the menu design and marketing to stand out in the crowded world of online food delivery.
So, here are 6 design tips on how to make a ghost kitchen menu friendly for mere mortals.
Branding comes first
As a cloud kitchen, your online menu is the customer's first touch point with you. You don't get to welcome guests with cosy ambience and your cheery disposition. Your ghost kitchen menu is your storefront. So everything you do from here on out has to represent your brand. From your photos, to food presentation, right down to the packaging.
Make your online menu and IRL packaging as consistent as possible. Use the same logo, brand colours, and fonts everywhere. If you have a distinct aesthetic, make sure to include it throughout all your marketing.
Branding also goes beyond visual elements. It includes the tone of your menu descriptions. Are you a casual, friendly kitchen? Use language that reflects that. Do you serve a more fancy, upscale menu? Use elegant and sophisticated language to entice your customers. Give your customers a taste of your restaurant's personality and vibe.
Your ghost kitchen menu isn't some random collection of dishes. It's a vital part of your branding. So, don't take it for granted!
Think about packaging and sustainability
Nobody wants to open their delivery box to find a soggy mess. 
I mean I get it, I've been there – we all want to save money on single-use materials. But the risk is your best customer receiving a burger that fell apart in the box. Complaints and refunds ensue. Is that worth your time and energy?
Yes, most of the time it's the delivery person's fault. We can't control what happens after we hand over the food. But we can control our choice of packaging to ensure its arrives in the presentation we intended.
So don't cheap out on this. 
Use sturdy packaging that will protect your food during transit. And make sure your food items fit inside it snug as a bug in a rug. You can make it look sleek, or cute. Anything that is memorable and leaves a lasting impression on your customers.
Worried about waste and the environment? Go sustainable:
use biodegradable or compostable containers
switch to energy-efficient appliances
source for local produce
Investing in sustainable practices is a big selling point with Gen Z and millennials. 75% of Gen Zs think sustainable purchases are more important than brand names. Which means they are also prepared to spend more.
Emphasise this in your marketing and menu design. You're not only a Culinary Professional - you're also Captain Planet!
You'll be doing the environment a solid. And you'll appeal to customers who are conscious about their carbon footprint.
Menu must be easy to prepare
Now that you know what type of box your food goes in, it makes it easier to design a menu that fits into those boxes. Create recipes that are easy to make. 
Sure, you might be famous for your Peking Duck or Baked Alaska. But can your kitchen staff reproduce them in a consistent and timely manner? Otherwise you're going to have some hangry customers on your hands.
I know, I know, it's hard to let go of those dishes you've spent countless hours perfecting.
But let's focus: your goal is to streamline your production process. This means you'll be able to prepare more orders faster. And isn't that what it's all about?
Plus, some of the simplest dishes are also the most delicious. Think crispy chicken sandwiches, loaded fries, and mouthwatering burgers. They might not be the most "impressive" dishes on the menu. But you and I both know they're the ones that customers keep coming back for. 
So don't overcomplicate things. Keep it simple and tasty with easy-to-make dishes on your ghost kitchen menu. Your kitchen staff (and your customers) will thank you.
Items must travel well
You don't want your delivery box to greet your customer with a limp burger, or a cold, congealed pasta. Disappointments like these usually lead to scathing reviews online. 
So, what can you do to avoid this culinary catastrophe?
First off, make sure you're using ingredients that hold up well during transport. Avoid foods that will get soggy or will mix together during delivery. If the food has sauce or gravy, pack them in separate containers.
Examples of ghost kitchen menus that travel well:
Pizza, a global favourite
Grab-and-go finger foods
Burgers, the fast food king
Breads, cookies, and confectionary
Fried chicken, crispy and comforting
Wraps, a healthy and versatile option
Asian stir-fry, the epitome of delivery food
Classic sandwiches, always a lunchtime hero
Some dishes may need a little reinvention to fit the delivery model. Here are some clever tweaks to inspire your ghost kitchen menu: 
Swap raw seafood for delectable lobster rolls instead.
Pack dry foods like rice, bread, or naan separately from the soup or curry.
Deconstruct pho into a DIY kit, sending ingredients in separate containers.
Reimagine a waffle and egg breakfast into a quirky sandwich with waffles as "buns".
Invest in packaging that will keep your food warm / cool and fresh during transport. Insulated bags, heat-retaining containers, and leak-proof lids are your best friends. 
You may also want to limit the distance you're willing to let the food travel. For example, only deliver within areas that take up to 30 minutes to get to. 
Share ingredients across various dishes
You can use the same ingredients in different combinations. Or cook them in different ways. Roasting, boiling, baking, frying, grilling.
This is a no-brainer and something you've been doing throughout your career. So let's not waste another paragraph on it. Moving on!
Offer fewer options
More choice equals freedom, right?
Well, yes, but studies show that the more choices presented to us, the less happy we are with the one we make. We end up with analysis paralysis, buyer's remorse, or decision fatigue.
You want to give your customers options, but you don't want to overwhelm them. After all, they're customers, not contestants on a game show. So, strike a balance when designing your ghost kitchen menu.
You don't want to be the minimalist who only offers three options: chicken, beef, or vegetarian? Hello, this is not an airline menu. 
You also don't want to be the maximalist who offers 50 different types of pizza. You're not trying to start a menu arms race here. 
Think about what types of dishes are going to be popular among your target audience. What are they craving? What's going to make them come back for more? Create a variety of options that offer different flavours, ingredients, and preparation styles. But keep it manageable, affordable, and easy to make.
A focused, streamlined menu leads to less waste. 
If you have a large menu and still want to be able to offer everything - rotate them. Offer weekly specials, and "limited editions". This way, you create FOMO and customers get to enjoy new things every week. 
The online ordering system you use also plays a big role. A first-party system like Maynuu gives you full control over your digital menu.
With Maynuu, your ghost kitchen menu 
is easy for your customers to use
can be customised to match your branding
gets delivered in a timely manner via integrated couriers or your own in-house riders
Conclusion
At the end of the day, your ghost kitchen's digital menu is the face of your brand. It's what potential customers will see and use to make their decision to order from you or not. So, it has to be nothing short of fantastic.
---
We use the term 'restaurant' throughout the article for consistency. However this guide can be generally applied to any type of food shop, including but not limited to: bakeries, bars, bistrots, boulangeries, butcheries, cafés, caterers, coffeeshops, delis, diners, eateries, food trucks, patisseries, pubs, etc.
Maynuu
❇️ Create your FREE ghost kitchen digital menu in under 30 minutes
Maynuu is free for merchants in Malaysia and Singapore.
If you would like to use Maynuu outside of Malaysia and Singapore, please contact Aaron at this email address: aaron [at] maynuu [dot] com